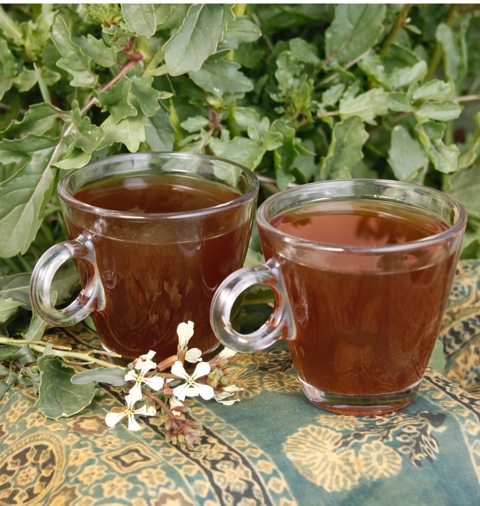 7 Tips for Easy Healing Ayurveda Drinks Garden Fresh
FIND IMMUNE SUPPORT IN YOUR BACKYARD OR ON YOUR WINDOWSILL
As gardeners and cooks as well as lovers of Ayurveda, Renee Lynn and I wanted to share this natural bounty with you when we created Easy Healing Drinks from the Wisdom of Ayurveda together. The book just turned two, and to celebrate, I wanted to highlight seven top easy healing Ayurveda drinks garden ready from it that you can make yourself.
One of the nice things about a garden is, it's there for you. You don't have to put on a face mask (unless you're lucky enough to share a community garden with others) or pull out the hand sanitizer, you can just head on out there, commune with the plants, and harvest what you need to support your immune system. Wash your hands first? Sure. Fresh air, exercise, tasty food, a garden offers a lot. Discover how easy healing Ayurveda drinks garden fresh can be made with much less fuss than you might imagine.
TIP #1: If you have fresh mint and organic roses growing close by, you're halfway there to making the flavorful HIBISCUS SUN COOLER, an exclusive recipe from Easy Healing Drinks from the Wisdom of Ayurveda. Put 2 Tablespoons of each in a clean 1-quart jar, add 2 Tablespoons of hibiscus flowers (well-packed or powdered) and a 1 ¼ inch slice of fresh ginger. Add water to the top of the jar, and set the tea out in a sunny place to infuse, 2 – 4 hours max. Let the sun do the cooking for you; the tea will become a beautiful deep pink color. Strain and sweeten to taste. Store in the fridge. Hibiscus Sun Cooler is rich in anti-oxidants and anti-inflammatory qualities, perfect for supporting the immune system, heart, and healthy blood pressure. Thanks to photographer Renee Lynn for both the delicious recipe and its image.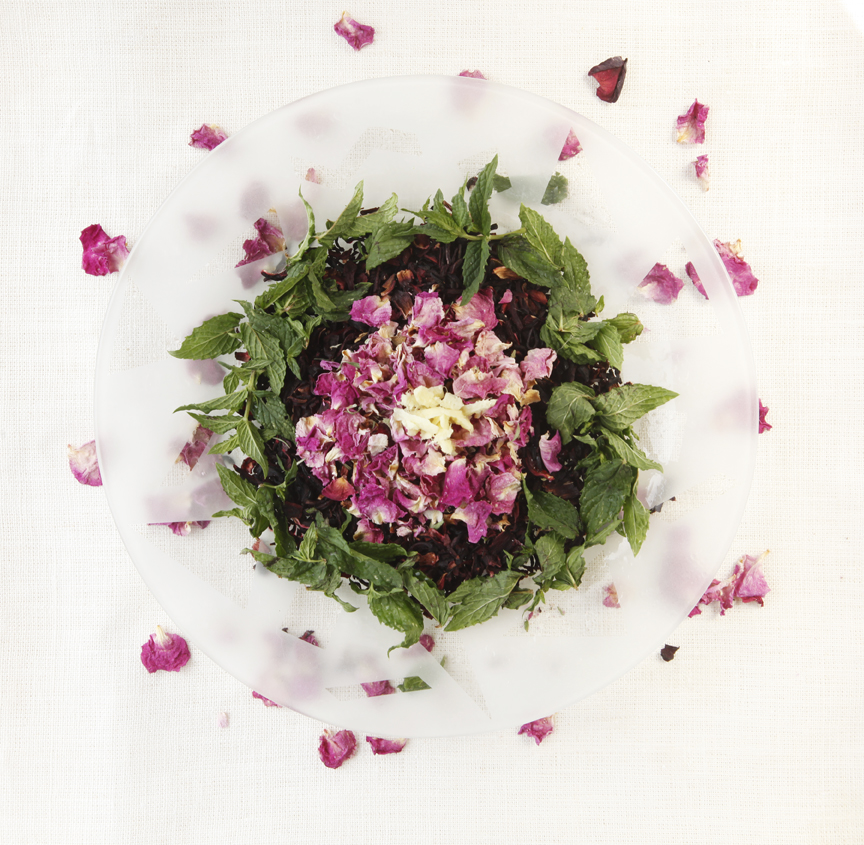 TIP #2: Combine arugula, tulsi basil, and honey for hay fever relief. Arugula may have gone to flower in the wilder patches of your garden; the small white flowers are attractive to bees and other pollinators. You can use either arugula leaf or flower for this next drink, THE TULSI QUEEN TEA. It's a cinch and takes just 10 – 15 minutes to make from start to finish. Harvest two cups well-packed arugula leaves and/or flowers; wash well. Chop it coarsely if you like. Boil 2 ½ cups of water in a medium stainless steel pot, add the arugula and 1 Tablespoon of organic Tulsi powder, the famous sacred basil of India. (Tulsi basil is an easy plant to grow here in the US.) No Tulsi powder? You can use 2 Tulsi tea bags, Organic India Original is one nice choice.
You've got hot water, arugula, and tulsi simmering in your pot. Turn off the heat, cover, steep 5 – 10 minutes, strain and enjoy. Sweeten to taste with honey added to your cup, not heated up in the pot, to optimize its action. It will bring out the decongestant qualities of tulsi. Nice for other respiratory challenges as well.
TIP #3: COOLING COCONUT GREEN DRINK packs a lot of flavor and is stashed with amazing amounts of beta-carotene rich garden greens. Find the complete recipe from Easy Healing Drinks from the Wisdom of Ayurveda at the end of this blog. Here's a peek: you'll need fresh cilantro, ginger, lime juice, coconut water, an optional sweetener, and as many garden greens as you can blend into the recipe. A high prana, readily digested example of easy healing Ayurveda drinks garden fresh. A nice support for tender mucus membranes and skin in spring and summer.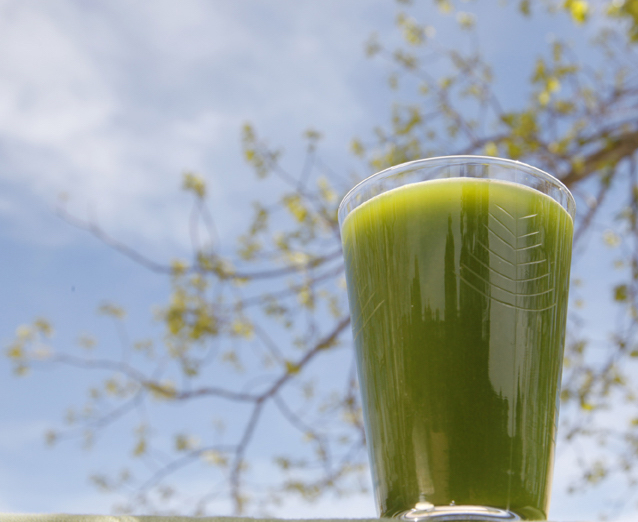 TIP #4: Cucumber ripens on the vine in a leisurely fashion in the sun. It's close to harvest now in some places, yet not in others. When it comes available, knot that it is a supreme refrigerant. Just as the thermometer rises, it has the ability to cool you down fast! The ultimate of easy healing Ayurveda drinks garden fresh comes from Dr. Vasant Lad., what I've called CUCUMBER DELIGHT. In this traditional East Indian recipe, you just whip together half a peeled cucumber, 1 cup of milk (either dairy, nut, or seed milk), a pinch of ground cardamom, and a bit of sweetener to relieve thirst and heat swiftly.
TIP #5: Cucumber is a prominent player in other easy healing Ayurveda drinks garden fresh, including this Latin-style CUCUMBER AGUA FRESCA. Wash and slice 1 organic cucumber into a 1-quart glass jar. Pour in 2 cups of coconut water or regular water and 4 teaspoons fresh dill leaf. Infuse in the fridge for 2 – 4 hours. Strain. Drink the fresh water (= agua fresca) to hydrate and modulate your temperature as much as you need. You can munch on the cucumber slices, or add them to a fresh salad.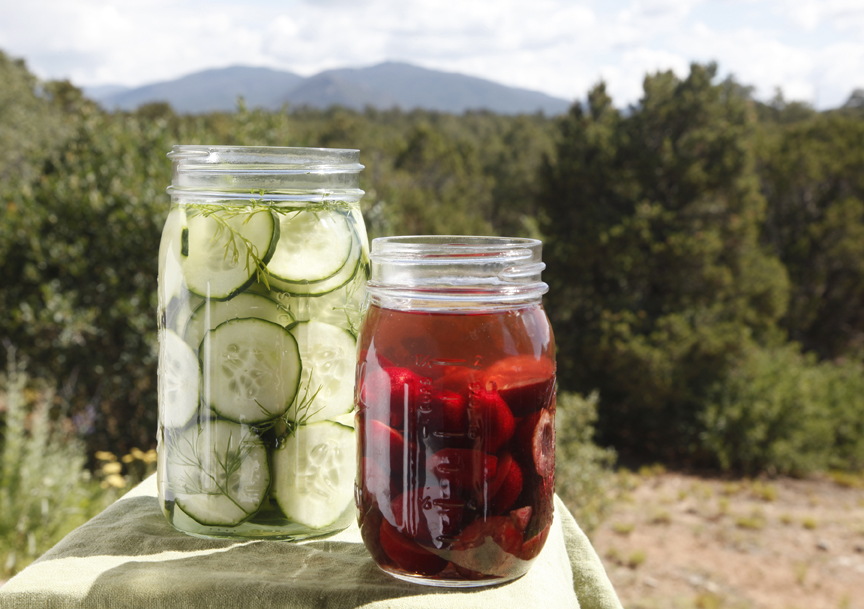 TIP #6: Organic strawberries could be nestled in a corner of your yard. If so, get ready to make GORD'S STRAWBERRY LEMONADE, one of a myriad of easy healing Ayurveda drinks garden sourced at your fingertips. Chop up 3 to 4 fresh strawberries with a bit of banana, 1/3 cup lemon or lime juice, 3 cups pure water, and sweeten to taste. Blend and serve. Makes 1-quart in five minutes.
NOTE: This recipe and its summer & autumn companions can only be found in the full color four seasons print version of Easy Healing Drinks from the Wisdom of Ayurveda. Yet if you've got a limited budget, we offer the spring and winter drinks in affordable one-season Ebook versions as well.
TIP #7: Mint has the unusual quality of being able to normalize the flow of prana or chi throughout the body. It decongests blocked Vata (which can manifest as fear, anxiety, worry) and can lift both emotional and mental tension. KEY LIME PITTA MINT COOLER promotes a free flow of energy, calms Pitta, and is full of mineral-rich foods. It's found in both the full-season print book and the downloadable Cleansing and Sustaining spring eBook. You combine raw sunflower seeds, mint, lime juice, avocado, and spices in this offering from the easy healing Ayurveda drinks garden sourced.
If you don't have a garden, yet love mint, this could be a time to consider growing your own ingredients. See if there's a live mint plant willing to share a cutting with you. You can snip a three inch piece of fresh peppermint or other mint, pop it into a glass of water, and wait for the roots to grow into the water. In a week or two, you can transplant it into a clay pot of potting soil on your windowsill or front stoop. Mint is hardy and likes plenty of water. It's a nice starter plant. Connect with your own undiscovered green thumb and Mother Nature together.
PLAY WITH DARK LEAFY GREENS
Are you already a discerning Ayurveda eater and/or cook with a keen sense of what ingredients are best for each dosha? You may want to peruse Amadea's CHEAT SHEET to refine how you can best use a wide range of easy healing Ayurveda drink garden greens. The PLAY WITH DARK LEAFY GREENS table is found as an appendix of both the full-season print book and the Cleansing and Sustaining eBook of spring recipes. Learn when to use comfrey leaf or nettles, and when not to use spinach. Expand your repertoire of immune healing greens. Remember, cooked greens calm Vata best, while Pitta and Kapha can handle them either raw or steamed.
You can make your own easy healing Ayurveda drinks garden fresh in less time than you'd imagine. For a more in-depth analysis of the effects of these recipes and a hundred others, click here. Discover these foods' impacts on your doshas, dhatus (essential tissues), digestion, and health.
You can use fresh juices, smoothies, herbal teas, and chai skillfully with the season. They're all in Easy Healing Drinks from the Wisdom of Ayurveda by Morningstar and Lynn. As gardeners and cooks ourselves, we offer this to you. Enjoy!
COOLING COCONUT GREEN DRINK
An easy, pleasant way to ingest greens!
Time: 10 – 15 minutes
Makes: 1 cup
1/3 cup well-packed cilantro, finely chopped
½ – 1 teaspoon or more finely chopped fresh ginger, peeled
1 Tablespoon fresh lime juice
1 cup organic coconut water
1 teaspoon coconut sugar (optional, see Variations below)
½ cup or more dark leafy greens of your choice
Pre-pulse the cilantro, ginger and lime juice until they are as smooth as possible. Add the coconut water and coconut sugar; blend until smooth. Now it's time to play: blend in as much of your favorite greens as you like. (With a $20 blender, there are some chunks in this one, which if you like, you can strain out.) Enjoy!
Effects: very calming to Pitta, calms Kapha. Raw greens increase Vata, although the ginger, lime and fluid all make it less aggravating. Yogurt or coconut milk (see variations below) are other ways to calm Vata.
This drink supports: plasma, blood cells, muscles, immunity.
Note: This magnesium-rich Pitta and Kapha subduing drink is an improvisation on Mataji Desai's Gujarati Fresh Coriander Chutney in our Ayurvedic Cookbook.
VARIATION: Iza Bruen-Morningstar, one of our recipe testers, shares, "I find that to cut the bitterness of the greens it's helpful to add coconut milk or yogurt, (then the recipe) may not need the lime or added coconut sugar. I got half a bunch of dino kale and an entire bunch of cilantro into mine today, and it was just half a can of coconut water and a quarter cup of plain yogurt plus the greens. Slightly bitter but definitely sweet enough. So glad you brought this drink into my life! I love it!"
VARIATION for Vata-Pitta: add ¼ cup canned whole coconut milk and a minimum of tender steamed greens,if you're working on gaining weight and calming Vata more. Still calming to Pitta, increases Kapha.
Excerpted with permission from both Easy Healing Drinks from the Wisdom of Ayurveda full-season print book and Easy Healing Drinks from the Wisdom of Ayurveda: Cleansing and Sustaining Recipes, the Spring eBook.
2022 Update: For some excellent insights into herbal remedies for the immune system from a wide range of experts, click here.
Amadea Morningstar, MA, RPE, RYT is an Ayurvedic cook, gardener, and educator. Her expertise is in Ayurveda and Polarity Therapy health care. Currently Amadea works at a distance from Santa Fe, NM; sessions include Western nutrition, Ayurvedic nutrition and herbalism, Marma therapy, and nature-based approaches.
Amadea's Ayurveda book with photographer Renee Lynn just turned two: Easy Healing Drinks from the Wisdom of Ayurveda, in print and also E-book formats. To learn more, click here.