Dynamics of Ayurvedic Nutrition: Adapt Recipes for Individual & Cultural Needs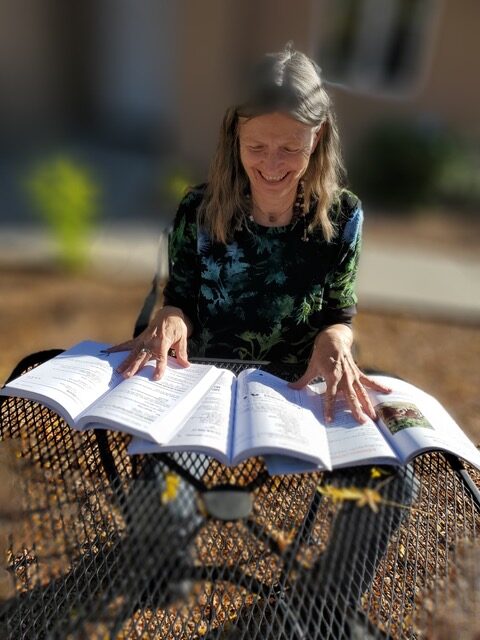 Wednesdays Nov 2 & 9, 11 am – 1 pm OR 5:30 – 7:30 pm MDT
Join Amadea to learn step by step how to creatively adapt traditional and non-traditional recipes in a healing Ayurvedic way.
Vegetarian focus, yet not exclusively veggie.
A course for both personal and professional growth.
Bring two recipes you'd like to play with.
An Interactive Online course
Course Description
Dinacharya, daily routine within cycles of nature, lies at the heart of Ayurvedic healing. Chikitsa, applying consciousness to (in this case) food, is a vital aspect of therapy. The dynamics of Ayurvedic nutrition weave closely into the creation & use of recipes for healing. In choosing a recipe or creating a new one, the practitioner-cook accounts for the 21 gunas and the 6 tastes relating to the doshas & seasonal needs.
Traditional recipes balance the gunas and rasas inherent within them. Yet Ayurvedic practitioners/educators encounter clients who consume diets with a variety of foods uncommon to Ayurveda, with unique qualities & tastes. Special or unusual foods common to Ayurveda may not be available to some clients. We're living in extreme times, in terms of climate, sustainability, and available resources. Meeting these challenges creatively both in our own lives and in our professional work can make the difference between a successful outcome or an intention for healing abandoned halfway.
Course Objectives
Establish a basis for understanding how the gunas and tastes interplay within recipes, traditional and non-traditional.

Begin to adapt specific recipes for different constitutional types and seasonal needs.

Utilize food histories and interview techniques to elicit key foods and recipes for oneself and one's clients. (with sample questions)

Apply the open and focused neutrality of the mahagunas to brainstorm with oneself and one's clients, creating adapted recipes suitable for their individual needs and cultural foundations.

Understand step-by-step guidance on how to adapt recipes to support the dynamics of Ayurvedic nourishment.
Listen to an interview with Amadea on The Healthy Peaceful Podcast about this course.
Details
Provider Ayurveda Polarity Therapy & Yoga Institute (APTYI)
Faculty Amadea Morningstar has worked with food, energy, and healing for more than 45 years, and with Ayurveda for 39 years. She's the founder of APTYI in Santa Fe, New Mexico, and an internationally recognized author and teacher in the field of Ayurveda. Her most recent book is Easy Healing Drinks from the Wisdom of Ayurveda. Amadea has a private practice in Santa Fe, New Mexico; she applies this learning about the Dynamics of Ayurvedic Nutrition and adapting recipes regularly with her clients and her self..
Audience Ayurvedic Professionals, Cooks, and Educationers, Nutritionists and Nutrition Educators, Healing Chefs, anyone experienced with Ayurveda and interested in this topic
Course Delivery Method Live (On-Line)
Time Your choice of 2 sections: 11/2/22 & 11/9/22, 11 am – 1 pm MDT OR 5:30 – 7:30 pm MT
Cost  Donation $250; people have given more and less. Reflect on what makes sense for you.
Registration
Registration is open thru Oct. 31, 2022.
Click here to fill out your registration form and pay for the course. You will receive confirmation of your registration by email from APTYI.
Questions
If you have any questions about the course, feel free to contact APTYI's Education Outreach Coordinator, Iza Bruen-Morningstar.
APTYI SCHEDULE
Online, October 10 & 17, 2023, 5 - 8 pm MT, Dynamics of Ayurvedic Nutrition: Marma Mind Mahagunas
Online, October 12 & 19, 2023, 10 am - 1 pm MT, Dynamics of Ayurvedic Nutrition: Marma Mind Mahagunas
Online, October 31, November 7, & 14, 2023, 10 am - 1 pm MT, Mood & Food
Online, November 1, 8, & 15, 2023, 5 - 8 pm MT, Mood & Food
Distance Learning, Ongoing
Polarity Therapy Toe Balance, free Instagram Live workshop
Energetic Nutrition, 5 hour video course
Work with Menopause Skillfully, 9 hour video course
Online, Ayurvedic Pulse Assessment
For Polarity Therapists (recorded, available for purchase)
Online, Ayurvedic Tongue and Nail Assessment
For Polarity Therapists (recorded, available for purchase)
Click here for free educational offerings