Easy Healing Drinks from the Wisdom of Ayurveda: Delicious and Nourishing Winter Recipes
$4.99
Discover how to support your own health – or regain deeper health – with these simple delicious elixirs from nature. They're easy to make, and even easier to drink! Put the wisdom of ancient Ayurvedic science into play in your life immediately with knowledge and recipes from Amadea Morningstar, internationally respected Ayurvedic teacher and Renee Lynn, Healing Winter Drinks' inspired photographer.
Enjoy healthy Rosy Beet Smoothie, Zesty Lemongrass Carrot Smoothie, Golden Milk, Healing Chai for Two, Almond Rose Chia Shake, and many more. All are tasty vegetarian beverages designed to warm you up in chilly weather, no matter what hemisphere you live in. Coded for the doshas, with generous amounts of information about to support your dhatus, your essential tissues. Join us for a beautiful guided adventure in how to heal yourself naturally. 6.2 MB, PDF format eBook
---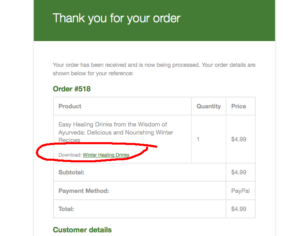 Once you complete your purchase you can access your e-book in two ways:
In the email receipt from my website there is a download link, click on the link to download the book. (see link circled in red in image below)
If you created an account at check out, after completing your purchase go to the MY ACCOUNT page under STORE in the menu bar and there will be a download link on that page.