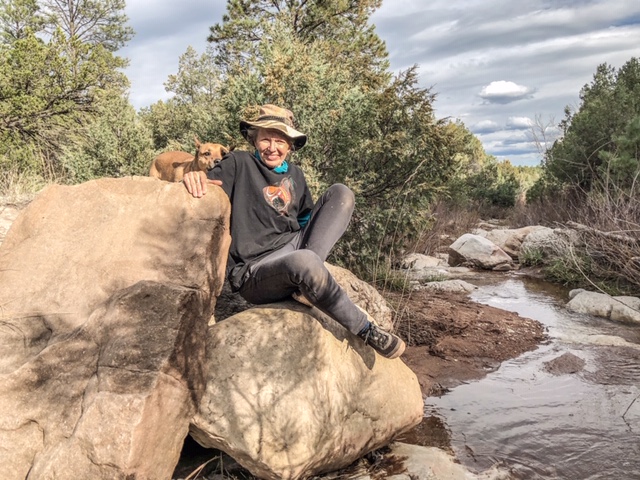 Nature is Win-Win in Creating COVID-19 Ayurveda Healing Balance
In COVID-19 Ayurveda healing balance, nature is the key player. In coming back into a natural balance, we encourage our chances for wellnes and the planet's at the same time. Quelling COVID-19 and meeting climate change from an Ayurvedic perspective are the same thing. Both are about coming back into balance with nature and ourselves.
PUBLIC HEALTH CARE AS A MEASURE OF RESPECT
The level of public health care a nation maintains is a measure of the respect and care it has for its people, a measure of its wisdom and prudence. Our country has forgotten this balance of life-affirming possibilities in its list of priorities. We could have a Climate Corps. We could have a Department of Public Health capable of simultaneously meeting all people's needs, both those impacted by the pandemic and those facing other life-threatening conditions. The US could cooperate with other nations on these and other issues vital to sentient beings on the planet. Yet this is not what's happening at this time. While it might be shocking to citizens of other nations, within the US the roots of this decay go back decades. Indigenous people would say, centuries.
NAVAJO NATION IS RUNNING A HIGH RATE OF COVID-19 INFECTION
The state of New Mexico has a relatively low rate of positive COVID-19 cases. Yet the Four Corners area of northwestern New Mexico is running a shocking rate of infection from coronavirus, higher than the largest metropolis of Albuquerque. The tiny town of Gallop, NM with a population of just 22,000 has the third-highest rate of infection of any metropolitan area, exceeded only by New York City and Marion, Ohio, the site of a large prison cluster. While indigenous peoples make up 11% of the population of New Mexico, they have 53% of COVID-19 confirmed positive cases in the state. The most severe outbreak is within the Navajo Nation and surrounding pueblos.
Many New Mexican pueblos have chosen to lockdown, without a single confirmed case, in response to the realities surrounding them. As the Navajo Nation and several nearby pueblos reel from the mortalities and fight to curb the spread of the disease, the federal administration has failed to distribute any of the $2.2 trillion stimulus package earmarked for the tribes.
INTEGRATING SCIENCE AND DEMOCRACY
As citizens of the US struggle with its conditions, Pacific nations have lead the way in effectively integrating science and democracy. Australia, New Zealand, Taiwan, and South Korea have protected their citizens well with a balance of testing, reflecting, and acting wisely. Until our locales are over the "hump", a misunderstanding of social distancing can precipitate further devastating and costly illness.
SOCIAL DISTANCING WORKS BEST OUTSIDE & WITH BRIEF EXPOSURES
In COVID-19 Ayurveda healing balance, it's become apparent that the "six foot" rule of social distancing works best with brief exposures and outdoors. As epidemiological data comes in on major infecting clusters, the picture of how to avoid infection is also coming into clearer focus. Indoor spaces, with limited air exchange, and more people talking, singing, coughing, sneezing, or yelling over time ups the risk of transmission substantially. Here's an excellent article from an immunologist on how to recognize your risks and minimize them as the lockdown opens.
A LONGER TERM VIEW OF CONSCIOUSNESS
For a longer view of this year, North American elder astrologer Tom Brady spoke with homeopathic veterinarian Dee Blanco last month about healing, astrology, and these times. Tom described three major cycles in the history of human consciousness. Within this flow, we are at a crucial moment.
In the first oral history cycle, what Tom calls the "At Onement" period, people did not see themselves as separate from the whole. With the advent of writing, a second cycle of consciousness began. Human awareness shifted; a subject-object split arose. Individuals saw themselves as separate from nature, animals, and plants. At the same time, major advances were made in some kinds of learning, communication, and science. We are seeing now, again, how science can be used skillfully to protect large groups of people.
However, the advances of the second period of consciousness came at the expense of the planet's well-being and many beings on it. We are now in a third digital cycle of consciousness. In this period, Brady says, we have the chance to consciously enter into "I-Thou" relationships with others, including trees, waterfalls, the planet, beings and other people not familiar to us. In seeing the other as sacred rather than as an "it", we can lift what happens between us. (To access this video, scroll down to 4/11/20 for Tom Brady's talk.)
COVID-19 AYURVEDA HEALING BALANCE
Ayurveda, like astrology, comes from the first, pre-literate cycle of consciousness, having arisen some 5 – 6,000 years ago as an oral healing tradition. It brings the power of the early "At Onement" with nature consciousness to the present moment. Like other current systems of healing, it has a rich written history of research and clinical practice, developed in the second cycle. Yet the sacred was never exiled from it, so it is easier to consciously pick up the thread of healing and expand with it into this new cycle in front of us.
INDIGENOUS WISDOM COMES FROM THIS SAME PLACE OF POWER
Indigenous wisdom comes from this same ancient place of "At Onement" that holds deep-rooted power. Lakota historian Nick Estes observes, "There is no word for "nature" in Lakota. Our word for "humans", Oyáte, is a universal term that applies to nonhumans as well." Santa Clara Pueblo elder Jose Lucero offers a simple practice for planetary healing from this same place of power.
MOVING INTO A NEW POSITION OF BALANCE AND STRENGTH
In this third cycle of consciousness, with COVID-19 Ayurveda healing balance, we bring our language and learning with us, yet consciously join all of creation. Science is respected as a potent tool, yet we let go of the separation, the "I-it" story. We create relationships with other living beings, including trees.
In Ayurveda, imbalance leads to disease. From this perspective, coming into balance with nature supports healing from COVID-19 as well as the changes needed to meet climate change. It is one movement, not many.
WISHING FOR THE BEST FOR EVERYONE
Last month we celebrated the 84th birthday of our Tibetan Buddhist teacher Garchen Rinpoche (on line and at a distance). As he came out of retreat, he scrapped much of the planned festivities and instead invited us to contemplate one verse from Shantideva's Way of the Bodhisattva. It goes like this:
May every being ailing with disease
Be freed at once from every malady,
May all the sickness that afflicts the living
Be instantly and permanently healed.
As I repeated this to myself, I saw redwood trees, ponderosas, and the US Treasury secretary and his colleagues. There are many ways we need healing now.
In memory of Tatiana Sokolovska, who did not die of COVID-19. May you be surrounded with Christ consciousness and loving kindness. In honor of everyone who is suffering.
Please feel free to leave Comments here, they are welcome.
Amadea Morningstar, MA, RPE, RYT studied human biology and nutrition at Stanford and UC Berkeley; she taught pathology and physiology at the New Mexico Academy of Healing Arts. Her expertise is in Ayurveda and Polarity Therapy health care. Currently Amadea works at a distance from Santa Fe, NM; sessions include Western nutrition, Ayurvedic nutrition and herbalism, Marma therapy, and nature-based approaches. CE courses are available with Amadea thru her institute, the Ayurveda Polarity Therapy & Yoga Institute.
Amadea has a new Ayurveda book out with photographer Renee Lynn , Easy Healing Drinks from the Wisdom of Ayurveda, in full color print as well as affordable E-book formats. To learn more, click here.