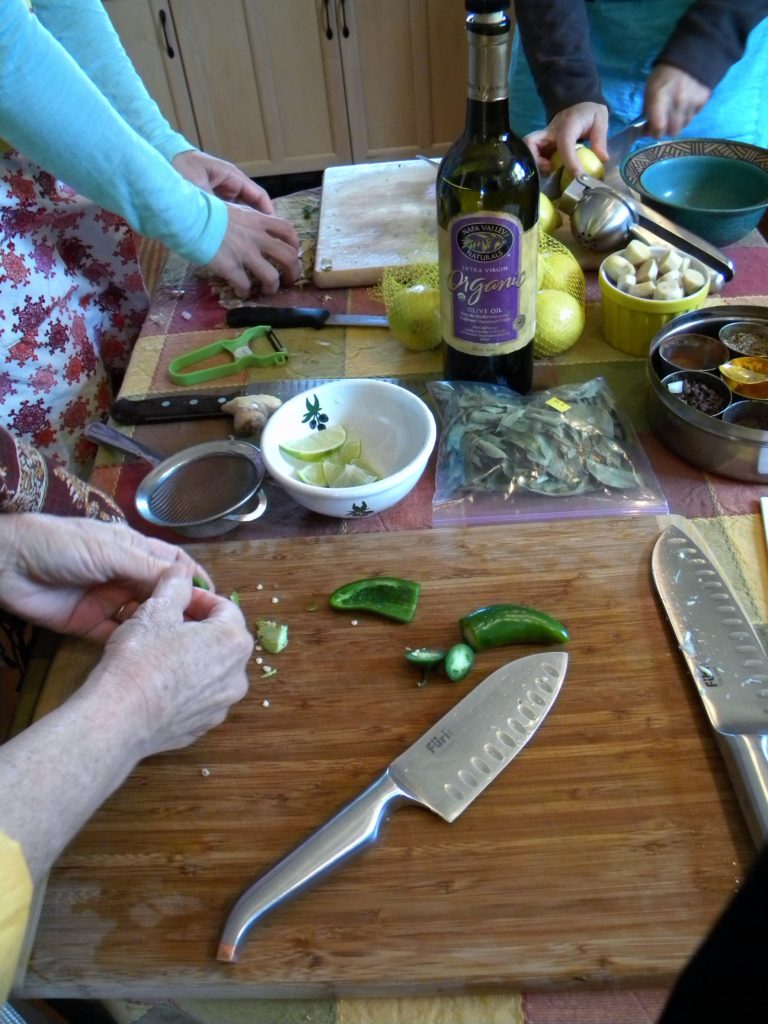 SUSAN AND GINA AND LIZ AND ALL OF YOU
It was quite a while ago. I was teaching my first cooking class at Kripalu in Massachusetts, and it was a small group, perfect for learning. As we went around with the introductions that first session, there was this exuberant dark-haired woman who was incredibly enthusiastic about Ayurveda – and my cookbooks. Huh. I didn't know what to make of her. She was SO willing to share her experiences, and they were all so positive. Cooking the Kapha recipes in The Ayurvedic Cookbook had changed her life, she said. Huh. (I was relieved to hear this, actually, being of Pitta-Vata constitution. I mean, you know what's helpful for you, yet it's refreshing to learn it can translate for others.) A Chopra Center Certified Instructor of Ayurveda, she was simultaneously bright, dreamy, spontaneous and grounded. My skepticism wore down over the duration of the week (it was a rare long intensive course) and was replaced by a lot of appreciation for Susan and each of her cohorts, some of whom now are well regarded Ayurvedic professionals as well. They asked great questions, and showed up for every aspect of the course – the studies, the cooking, the working-together-effectively part (most crucial). I was delighted to know all of them, and silently thrilled that Ayurveda had helped Susan so much – thanks to Susan's skillful application of it in her own life. FYI: this is Susan Weis-Bohlen of Baltimore's Breathe Ayurveda. She has gone on to teach many others just how much this ancient science and art can joyously transform a life http://breathebooks.com/ .
Susan and I have worked together in great ways since that first workshop. When we first meet someone, we really can have no idea just how long we will know one another, or in what subtle ways. Sometimes we think we will be working with someone for a very long time, and the relationship vanishes. Or it changes form. Life is full of surprises. Some of my students and clients, and most of my readers, I've never met in person. Sometimes I've had a strong relationship with a student, and yet we've never met face to face. I'm grateful to each of you.
My relationship with Gina was such a long distance one at first. She initially called me out of the blue, interested in studying more about Ayurveda. She taught Mindfulness Based Stress Reduction on the East Coast; she was also a registered Yoga and Yoga Nidra teacher, and a physician. Her story was not typical. Actually, when I think about it, no one's is, we're all unique. As Gina wrote later about our work together, "As a retired general surgeon, I was initially looking for certainty, answers…. But what I found..was far more than that. (Amadea) offered me the possibility of making friends with uncertainty, the possibility of approaching difficulty with curiosity and kindness . . .of seeing myself, and therefore others, through kind eyes."
After our first phone conversation, Gina decided to study long distance with me in an early incarnation of the current ASCE (Ayurvedic Self Care educator) series. She was an excellent and whole-hearted student; she would email her homework to me and we would conduct our tutorials by phone. Half way through her studies, she told me she was bringing a group of her students to Ghost Ranch, New Mexico for a retreat, an exquisite spot. Would I like to be a part of it, teach them some too? Definitely. As I drove up through the red rock country of Abiquii in New Mexico, Chimney Rock appeared out of a misty fog and it began to snow, rare, rare, rare at that time of year. Gina and her students came out to greet me; we hugged in the snow. Weirdly, for a number of years afterward, it would snow every time we first got together, no matter what the season. This must mean something, yet I have no idea what! http://ginasager.com/
Susan invited me to Baltimore to teach, and Gina graciously supported. Later each of them would put on different workshops for me, and patiently shuttle me back and forth like some old beloved auntie. Truly, they each did make me a member of their families. There is another member of our family in Baltimore, as well, that I would like to acknowledge. This is my respected student and their Ayurvedic "sister", Liz. Liz Eisenberg pioneers Ayurveda in the U.S., with a Masters in Social Gerontology as well. As she would say, Shalom and Namaste! http://www.everythingayurvedic.com/
I'm coming to the East Coast for the first time in a number of years, this October in Baltimore. Susan Weis-Bohlen and Breathe Ayurveda are hosting Ayurvedic Immersion, a weeklong series of teaching and experiential learning events in meditation, self care, and cooking. As Gina has described this work, "(Amadea's) unique interpretation of the often difficult principles of Ayurveda encourages each student to learn and understand in his/her own language, thus creating an authentic personal experience of the power of Ayurveda. Her questions are probing and heart opening – if you are willing and able to take them on, they will transform your life. . . The secret ingredient is LOVE!" I'll be doing consultations as well. If you feel drawn to come, please do. http://www.ayurvedapolarityyoga.com/schedule.html
I began teaching forty years ago, in my early twenties. I've met so many of you over the years, and learned so much from each of you. I did not know it when I began, yet there are decades of relationships here. You have become teachers, therapists, artists, parents. You've given birth to so many different projects, books, schools. I am so grateful for this richness. I want to send a special acknowledgement to the family and loved ones of Archa Beth Hodges, a skilled and dedicated teacher of Ayurveda and yoga at Kripalu and a rare human being. She was one of my students. Archa is now in the bardo. May her journey be protected with love and wisdom.
As I write this, there are other kinds of endings happening. We are nearing the close of a course, and the close of a school, at the New Mexico Academy of Healing Arts in Santa Fe. This bodywork school has graduated hundreds of fine therapists over its 34 years, and this current class is stellar. Its graduation will be October 3, and the school's closing ceremony Oct. 4. Think of us with love, if you will. http://www.nmhealingarts.org/
You can see it's a closing and opening kind of time for me. If you have ever worked with me, whether as a student, colleague, client, reader, or friend, know that I so appreciate all that you have been in your life, and mine. As a result of what you have learned and what you have taught, there are so very many ways you've shared your own knowledge, professionally and personally, that have benefitted others as well as yourself. I rejoice! Huh.