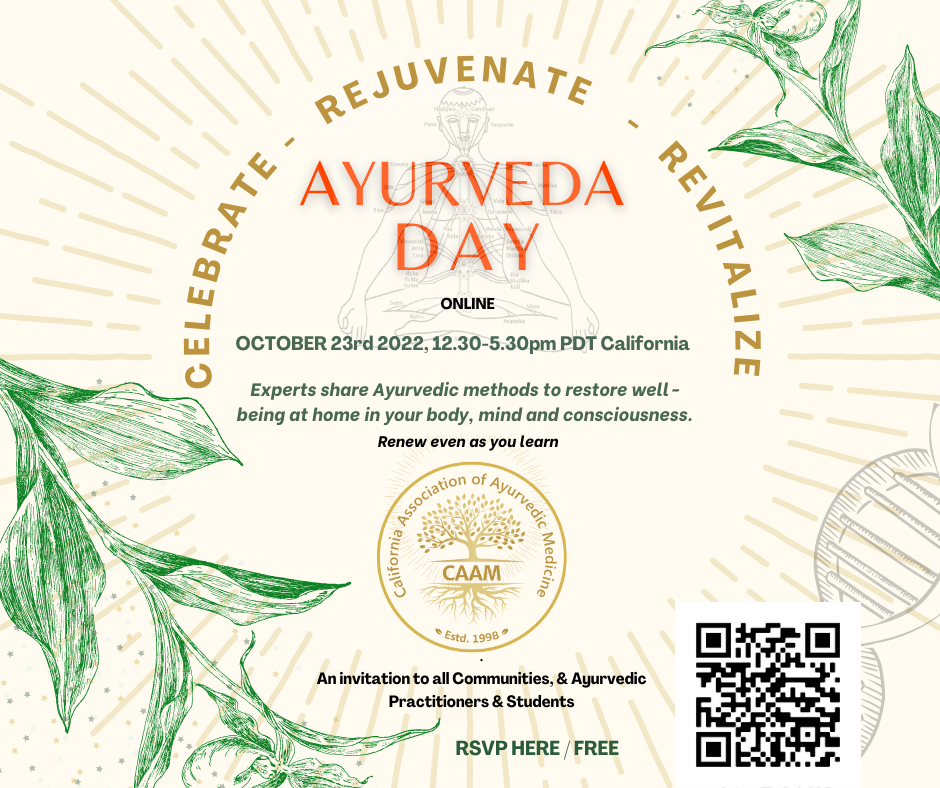 Join Us for CAAM Ayurveda Day 2022
In support of CAAM Ayurveda Day 2022, I am glad to announce I will give the keynote for this FREE online event, this Sunday October 23. The full conference extends from 12:30 – 5:30 pm Pacific Time. The keynote, Food: Explore How It Nourishes Body, Mind, and Consciousness is 12:50 pm PT/1:50 pm Mountain Time. Our purpose is to share how Ayurveda can be used to rejuvenate and revitalize our lives. This event is open to the general public, as well as students and practitioners of Ayurveda, sponsored by the California Association of Ayurvedic Medicine.
Food: Explore How It Nourishes Body, Mind, and Consciousness
Food can rejuvenate us physically, energetically, emotionally. It impacts our minds and consciousness. Through the lens of the five koshas, we will explore how Ayurveda's core concepts can be adapted to meet your unique needs, individually and culturally. Learn simple and straightforward ways to do this. Nourishment covers a wide range of experience. The focus here is to converge this diverse array of methods and insights into the single awareness, consciousness, which we all share.
CAAM Ayurveda Day 2022 Conference Speakers
The CAAM Ayurveda Day 2022 conference speakers offer a rare depth of experience; I am honored to be among them. Anupama Kizhakkeveettil, PhD, BAMS, MAOM, details how Ayurvedic medicine encompasses a wide range of dimensions to deliver personalized self care for the individual. Vaidya Jayarajan Kodikannath explores traditional Ayurveda as a guide to modern parenting, health, fun, and family bonding. Martina Ziska, MD, D.Ay. will address rejuvenation and nourishment of the nervous system, so needed in these times. Inspiring pioneer in Ayurveda in California Dr. Marc Halpern AyD will teach about three deeply relaxing Ayurvedic techniques to tonify the body and mind. Respected yogi Yogakalaimaman P. Krishnan Balaji explores Mudra Yoga as a powerful tool to overcome chronic challenges. Ayurvedic physician Mana Kshirsagar AD, MS, explicates the much-needed, and often neglected, topic of how to proceed with rejuvenation after one has undergone Panchakarma, detoxification.
Join us this Sunday, October 23, 12:30 – 5:30 pm PT for CAAM Ayurveda Day 2022. (If you are unable to attend, recordings are available at a nominal fee, to benefit CAAM.) With much thanks to Mamta Landerman, Ayurveda and Jyotishi teacher and practitioner, and everyone involved in spearheading this event.
Amadea Morningstar has been a pioneer in bringing Ayurveda Nutrition to the West. Her expertise lies in teaching people how to adapt Ayurvedic principles creatively and effectively to whatever cultural patterns one knows, East or West.
With an MA in counseling, a BS in nutrition, a registered Polarity educator (she directs the Ayurveda Polarity Therapy & Yoga Institute in Santa Fe, NM) a student of Dr, Vasant Lad since 1983, Amadea approaches food as true nourishment and inspirationally shares her 39 years of experience with multidimensional approaches.
Her writing ranges from the bestselling Ayurvedic Cookbook with Urmila Desai to most recently, Easy Healing Drinks from the Wisdom of Ayurveda.