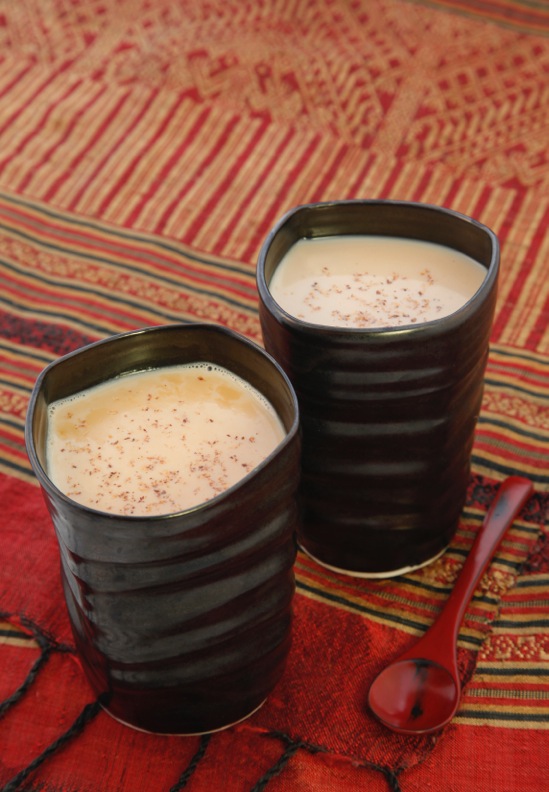 It's worth contemplating the dynamics of healing chai as the season changes on us. This sweet, pungent, and astringent-tasting brew warms us up just when we are needing it. As the season changes, it's time for our food and beverage choices to change some too. With autumn, we need more warmth and less coolness, more spice and less blandness. I invite you to look at the classic blend of spices within this highly popular East Indian drink.
How to understand the dynamics of healing chai
To understand the dynamics of healing chai, we consider its individual ingredients, their qualities, and how they interact with one another. Fresh ginger clears feelings of cold, improves peripheral circulation, supports digestion, and burns up toxins. It is sattvic, pungent, and sweet, warming the body without aggravating the mind. (Fresh ginger is warm in action, dried ginger, hot.) Cinnamon likewise is pungent and sweet, yet with astringent taste as well. Its hot digestive effect makes it calming for Vata and Kapha, and increasing to Pitta. Cinnamon enhances appetite, destroys toxins, relieves gas, builds strength, and like ginger, enhances circulation to the extremities.
Cloves and more
Next up in the ingredients influencing the dynamics of healing chai, cloves have a different signature. Pungent and bitter in taste, they have a cool virya(effect on digestion), yet a pungent long-term effect, vipak. Clove relieves respiratory congestion and pain. Its skill in clearing toxic waste, ama, makes it an Ayurvedic choice for reducing fevers. In moderate amounts, clove enhances digestive fire without aggravating Pitta, making it useful for funky, gassy, blah, sluggish digestion.
Cardamom acts as a true friend within the dynamics of healing chai. Light and dry in quality, its tastes harmonize well with the other spices, being pungent and sweet, with a cooling viryaand gentle sweet vipak. It clears the head and lungs. I appreciate cardamom's ability to direct energy downward, helping Vata ground. Like ginger and clove, it relieves nausea. To balance the stimulatiing quality of most of the spices in this recipe, nutmeg acts as a sedative. Pungent, bitter, and astringent in taste, with a heating viryaand a pungent vipak, it is aphrodisiac and rejuvenative, particularly to the reproductive systems in both women and men.
All these spices together enliven the hot milk with which they are cooked. They cut the phlegm-inducing quality of milks, and enhance the absorption of its nutrients. Choose a milk that suits you. For more insights, read here.
Caffeine or decaff?
Whether the dynamics of healing chai benefit you also depends on your choices around caffeine. The caffeinated versions of this beverage are ubiquitous. Yet if you're willing to forego these and choose a decaff option instead, your nervous system and needs for sleep could thank you.
The recipe that follows is used with permission from Easy Healing Drinks from the Wisdom of Ayurveda, a seasonally-based book of delicious and nourishing recipes for all seasons. Check it out, for more inspiration.
HEALING CHAI FOR TWO
This delightful classic brew from photographer Renee Lynn warms you up without wiring those doshas.
Time: 20 minutes
Makes 2 cups
2 cups filtered water
2 Tablespoons freshly grated ginger root
3 cinnamon sticks
¾ Tablespoon whole cloves
1 Tablespoon cardamom pods
¼ teaspoon freshly grated nutmeg
2 cups organic milk
3 Tablespoons organic loose leaf decaffeinated black tea, Assam or Orange Pekoe
Boil water, add the spices (ginger, cinnamon, cloves, cardamom, nutmeg) and simmer for ten minutes.
Add the milk and tea, bring it to frothy hot, and remove from heat. Stir and steep covered five minutes. Strain and serve. Sweeten to taste.
Effects: neutral for all doshas
This chai supports: digestion, ojas and comradery.
Comments: The original basis of this recipe comes from Dr. Sharada Hall, DOM and Ayurvedic practitioner, with thanks to her.
With appreciation to Sebastian Pole, Ayurvedic Medicine, for his excellent treatment of the dynamics of healing herbs.
Image Healing Chai for Two by Renee Lynn from Easy Healing Drinks from the Wisdom of Ayurveda