Energetic Nutrition 25-hour Audio Tutorial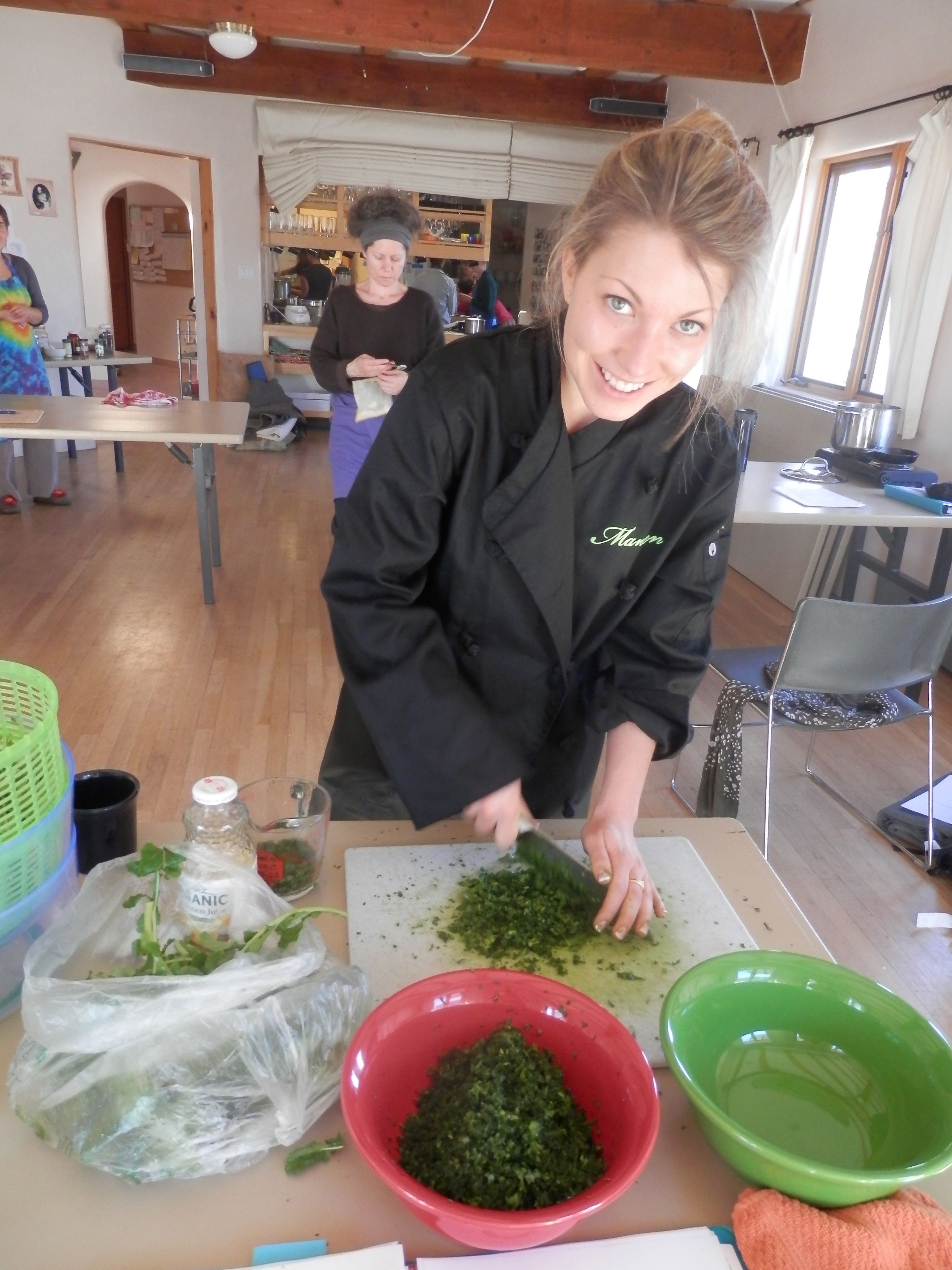 Manon cooks, ASCE I, Santa Fe
Energetic Nutrition is a vegetarian approach to healing developed by Dr. Randolph Stone, the founder of Polarity Therapy. This course compares and contrasts Polarity and Ayurvedic nutrition approaches. Amadea Morningstar integrates information from Ayurveda, Polarity Therapy, Western nutrition & herbology, based on her forty years of experience with food and healing. It includes training in physical assessment skills of tongue and fingernails, as well as diverse perspectives on food therapies for many specific conditions.
As you take this audio course, you join Amadea in a pre-recorded one on one tutorial with Swiss polarity therapist Dominique Rouiller Harrison and others. Based on nine 2-hour sessions recorded in 2010 in Santa Fe, NM, this on-going distance learning class is designed to be taken on your own, with personal APTYI staff support. You read from the required text, The Ayurvedic Guide to Polarity Therapy, listen to the audio, and study handouts from the electronic manual. After you complete each three session segment, you turn in your homework and receive a one hour phone or skype tutorial with APTYI faculty, including Amadea. Homework includes preparing one purifying dish and a health building meal.
Total Cost: $495. Three personal one-hour tutorials are included in the cost of the course, as well as the audio CDs and electronic manual. Participants can use these tutorials to compare and contrast various types of diets. The text, The Ayurvedic Guide to Polarity Therapy, is included in the cost of the course.
Approved for continuing education and class credits by NAMA and the APTA. Thru NAMA,  it offers 18 PACE credits at the AHC level, and 25 PACE credits at the AP level for NAMA members. Through APTA, it provides 25 RPP hours.
Also available: Energetic Nutrition 5 hour video course, APP level
To register for the 25 hour Energetic Nutrition audio course, click below. 
APTYI SCHEDULE
Online, Jan. 31 & Feb 7, 2023, 10:30 am - 1 pm or 5 - 7:30 pm MT, Dynamics of Ayurvedic Nutrition: Marma Mind Mahagunas
Online, Nov 2 & 9, 2022, 11 am - 1 pm OR 5:30 - 7:30 pm MT, Dynamics of Ayurveda Nutrition: Adapt Recipes for Individual & Cultural Needs
Distance Learning, Ongoing
Polarity Therapy Toe Balance, free Instagram Live workshop
Energetic Nutrition, 5 hour video course
Energetic Nutrition, 25 hour audio course
Work with Menopause Skillfully, 9 hour video course
Online, Ayurvedic Pulse Assessment
For Polarity Therapists (recorded, available for purchase)
Online, Ayurvedic Tongue and Nail Assessment
For Polarity Therapists (recorded, available for purchase)