Energetic Nutrition Tutorial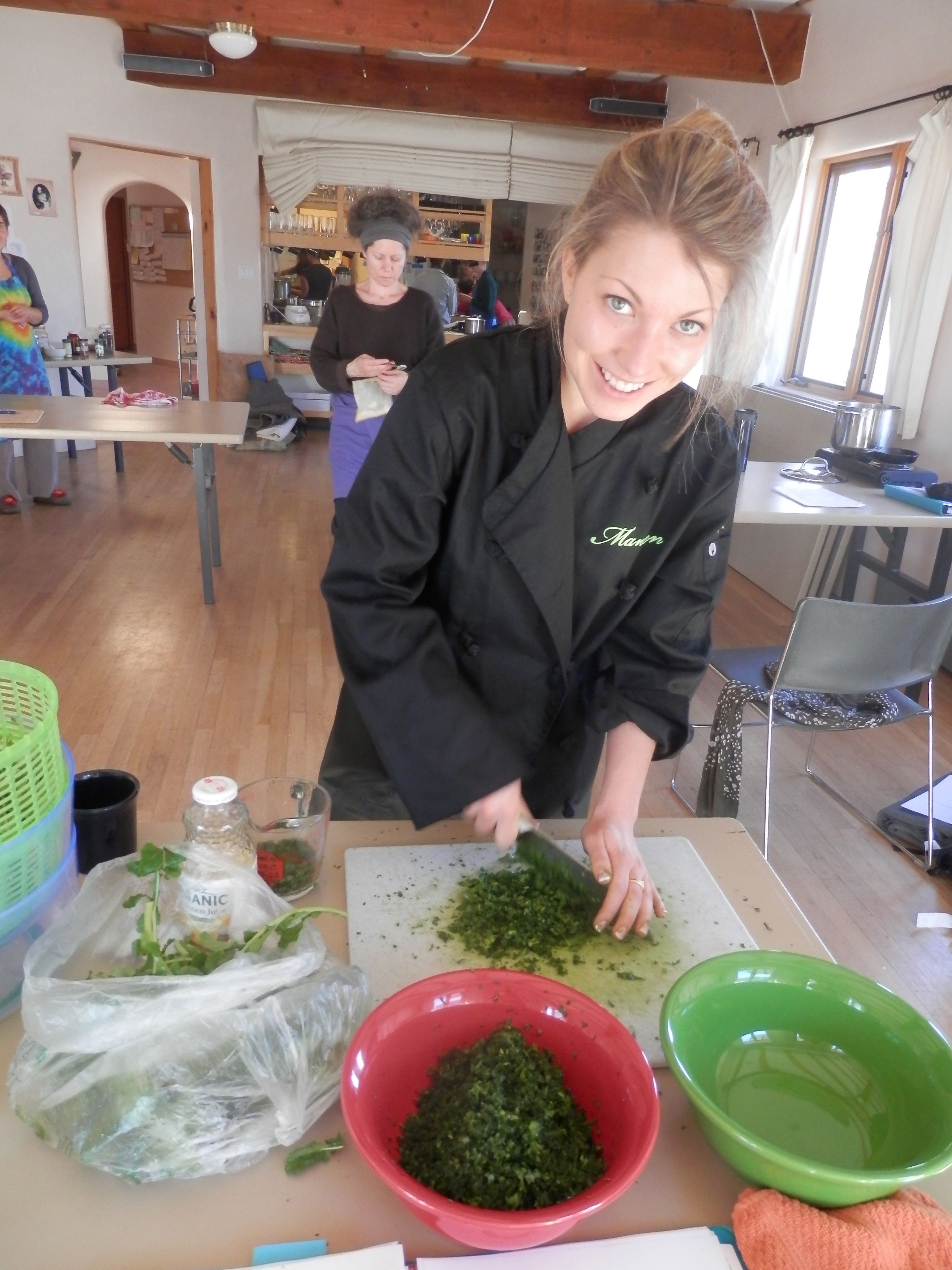 Manon cooks, ASCE I, Santa Fe
Energetic Nutrition is a vegetarian approach to healing developed by Dr. Randolph Stone, the founder of Polarity Therapy. This course compares and contrasts Polarity and Ayurvedic nutrition approaches. Amadea Morningstar integrates information from Ayurveda, Polarity Therapy, Western nutrition & herbology, based on her forty years of experience with food and healing. It includes training in physical assessment skills of tongue and fingernails, as well as diverse perspectives on food therapies for many specific conditions.
As you take this audio course, you join Amadea in a pre-recorded one on one tutorial with Swiss polarity therapist Dominique Rouiller Harrison and others. Based on nine 2-hour sessions recorded over as many weeks in 2010 in Santa Fe, NM, this on-going distance learning class is designed to be taken on your own, with personal APTYI staff support. You read from the required text, The Ayurvedic Guide to Polarity Therapy, listen to the audio, and study handouts from the electronic manual. After you complete each three session segment, you turn in your homework and receive a one hour phone or skype tutorial with APTYI faculty, including Amadea. Homework includes preparing one purifying dish and a health building meal.
Three personal tutorials are included in the cost of the course, as well as the audio CDs and electronic manual. Participants can use these tutorials to compare and contrast various types of diets.
The text, The Ayurvedic Guide to Polarity Therapy, is not included in the cost of the course. It can be purchased for $22.95 at the shop.
Approved for continuing education credits by both NAMA and the APTA, it offers 18 PACE credits at the AHC level, and 25 PACE credits at the AP level for NAMA members. Through APTA, it provides 25 CEU hours.
APTYI Complete Schedule Listing at a Glance:
Ayurveda & Polarity Therapy tiny workshops in Santa Fe, NM: 
Sarah McDaniel Valencia
Holistic Approaches to Healing Allergies
September 26, 2019, 6:30 - 8 pm
Amadea Morningstar
Integrating Ayurveda, Marma Therapy & Polarity Therapy
October 23, 2019, 6:30 - 8 pm
Ongoing Distance Learning:
NAMA PACE certified (CE course) Work with Menopause Skillfully
NAMA PACE certified (CE course) Energetic Nutrition tutorial
Stay tuned! We've shot 2 new Polarity courses, coming soon.
Plus
NEW Easy Healing Drinks launch: get your print all seasons copy  of Easy Healing Drinks through our website